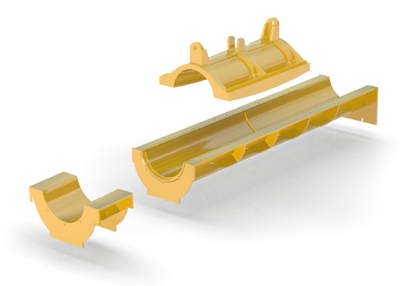 All Darby Bending Machines require a bending set and/or bending die (Bare or Lined) for bending a desired pipe size. A bending set and/or bending dies are required for each diameter of pipe that is bent. The largest pipe size in each pipe-bending machine requires a die only for bare pipe. Coated/lined pipe requires liners on all bending set pieces or bending machine contact points (e.g. stiff back bed, pin-up bed).

All bending sets are manufactured oversized to protect anti-corrosion coating on the pipe. If a thin-film epoxy coating is used as an anti-corrosion coating, a lined bending set is necessary.

All bending sets are designed and manufactured to conform to all API-5L pipe sizes.

Bending sets for the HPB6-20" Bending Machine consist of the following:

Click on product description to view image.

6" through 18" Bending Sets = Three (3) Pieces:

One (1) Bending Die, One (1) Stiff Back, One (1) Pin-Up

20" Bending Set:

Lined - One (1) Bending Die plus Two (2) Stiff Back Liners, One (1) Pin-Up Liner


Bare Bending Sets Also Available:
For use with bare pipe, coal tar coated pipe, asphalt coated pipe, and polyurethane coated pipe up to 5mm of thickness.